Cap-in Flat Knob S
---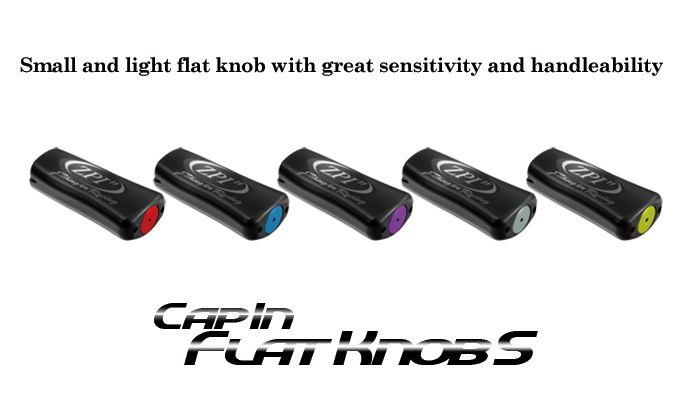 Cap-in Flat Knob S
Discontinued
Light knob with special color knob cap
Cap-in Flat Knob S is the new version of the Flat Knob S. Still as light as it was (3.3 grams), we added the special color knob cap in order to avoid materials including salt getting inside.
Available in Red, Blue, Purple, Silver, Gold

Spec
Product Code
Weight
Color
Pcs/Pkg
Price (excl. Tax)
Cap-in Flat Knob S

Discontinued

3.3g
R B P S G
1
¥2,200
* Color: R = Red, B = Blue, P = Purple, S = Silver, G = Gold
Suitablity
Product Code
Main Suitable Models
Cap-in Flat Knob S

Discontinued

- Shimano (All A changeable knobs except T-shaped knobs)
- Daiwa (All S-sized knobs)
- ZPI (All except handles for ABU without knobs)*
*NOT suitable for ZPI handle for REVO (with "R" at the end of the product code).
Package Contents
Product Code
Package Contents
Cap-in Flat Knob S

Discontinued

- Knob with cap: 1
- 0.2 milimeter shim for knob adjustment: 1
- Replacement tool: 1
- Collar for Shimano (flat): 1
- Collar for Daiwa (thick): 1