Machine Cut Alminum Knob Abalone
---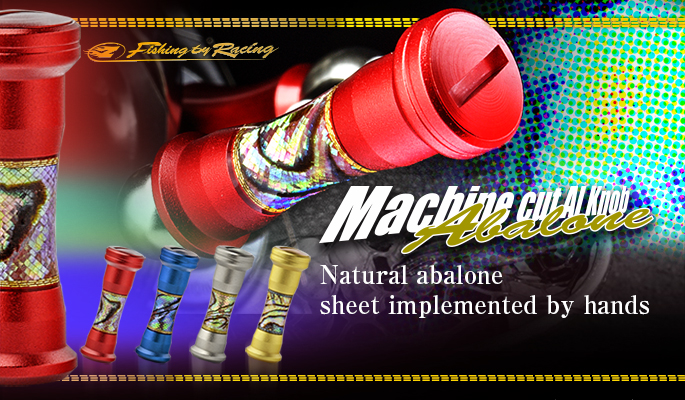 Machine Cut Alminum Knob Abalone
Lightness of Alminum Knob and gorgeousness of the natural abalone
Machine Cut Al Knob has been popular ever since it launched for trout, area fishing, horse mackerel fishing, and more. Now we have the new design for this – Abalone. The all natural abalone sheet is implemented one by one, by hands. This is not just a knob, but the art. No need to talk about the lightness and the high functionality of this knob – it now has the beauty by the look. None of these are the same, since we are using the all natural material.
Available in Red, Blue, Silver, Gold

Spec
| Product Code | Weight | Color | Pcs/Pkg | Price (excl. Tax) |
| --- | --- | --- | --- | --- |
| Machine Cut Alminum Knob Abalone | 2.5g | R B S G | 1 | ¥5,500 |
* Color: R = Red, B = Blue, S = Silver, G = Gold
Suitablity
Product Code
Main Suitable Models
Machine Cut Alminum Knob Abalone
- SHIMANO (All A changeable knobs except T-shaped knobs)
- DAIWA (All S-sized knobs)
- ZPI (All except handles for ABU without knobs) *1
*1 NOT suitable for ZPI handle for REVO (with "R" at the end of the product code).
Package Contents
Product Code
Package Contents
Machine Cut Alminum Knob Abalone
Al Knob Abalone with cap: 1
- 0.1 millimeter shim for knob adjustment: 1
- 0.2 millimeter shim for knob adjustment: 1
- Replacement tool: 1
- Collar for Shimano (flat): 1
- Collar for Daiwa (thick): 1