Power Game Carbon Handle
---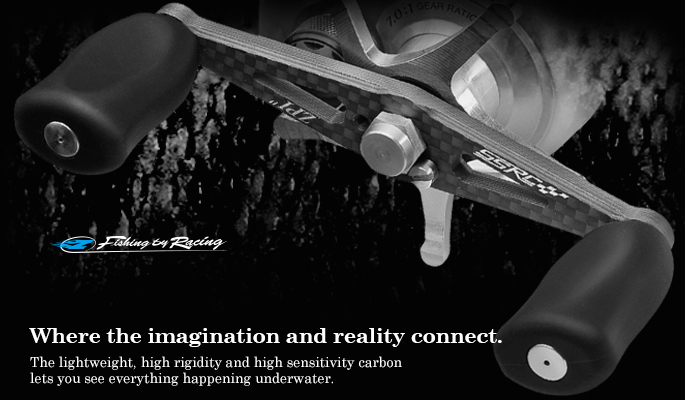 Power Game Carbon Handle
Carbon makes the light yet stiff handle

An angler needs to be aware of all the changes happening underwater as soon as the lure touches the water surface. Using carbon, the handle can be light and stiff, enabling you to feel the lure action, contact with the obstacles, changes of water pressure and water flows.
Available in 6 colors for carbon plate:
Black, Platinum, Racing Red, Racing Blue, Racing Purple and MEISAI (Camo).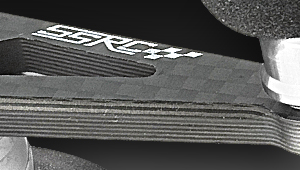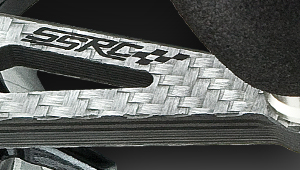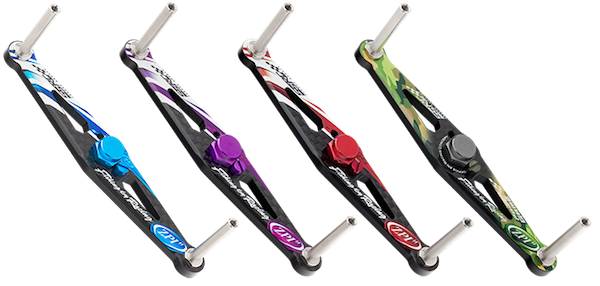 Available in 2 knob types: with knob and w/o (without) knob.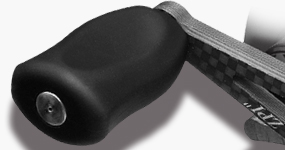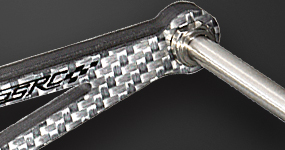 New 97mm modes released in September 2016!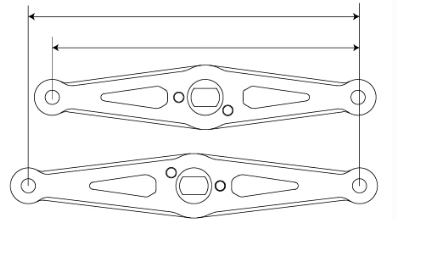 Upper: 92mm, lower: 97mm
Spec of Black & Platinum Carbon
| Product Code | Handle Length | Weight | Carbon Color | Knob | Price (excl. Tax) |
| --- | --- | --- | --- | --- | --- |
| PG-85S | 85mm | 10.8g | BC | w/o knob | ¥8,500 |
| PG-85D | 85mm | 10.0g | BC | w/o knob | ¥8,500 |
| PG-92S | 92mm | 11.3g | BC | w/o knob | ¥8,500 |
| PG-92D | 92mm | 10.5g | BC | w/o knob | ¥8,500 |
| PG-97S | 97mm | 18g | BC | w/o knob | ¥8,500 |
| PG-97D | 97mm | 18g | BC | w/o knob | ¥8,500 |
| PG-85PTS | 85mm | 11.3g | PC | w/o knob | ¥8,500 |
| PG-85PTD | 85mm | 10.5g | PC | w/o knob | ¥8,500 |
| PG-92PTS | 92mm | 11.8g | PC | w/o knob | ¥8,500 |
| PG-92PTD | 92mm | 11.0g | PC | w/o knob | ¥8,500 |
| PG-COMP85SH | 85mm | 22.0g | BC | with knob | ¥11,000 |
| PG-COMP85AD | 85mm | 22.0g | BC | with knob | ¥11,000 |
| PG-COMP92SH | 92mm | 23.0g | BC | with knob | ¥11,000 |
| PG-COMP92AD | 92mm | 23.0g | BC | with knob | ¥11,000 |
| PG-COMP85PTSH | 85mm | 22.0g | PC | with knob | ¥11,000 |
| PG-COMP85PTAD | 85mm | 22.0g | PC | with knob | ¥11,000 |
| PG-COMP92PTSH | 92mm | 23.0g | PC | with knob | ¥11,000 |
| PG-COMP92PTAD | 92mm | 23.0g | PC | with knob | ¥11,000 |
* Carbon Color: BC = Black Carbon, PC = Platinum Carbon
* Suffix of Product Code: S/SH: for Shimano D: for Daiwa AD: for Abu Garcia&Daiwa
Spec of Calor Graphic Carbon
| Product Code | Handle Length | Plate Color | Knob | Price (excl. Tax) |
| --- | --- | --- | --- | --- |
| PG-85S-CG | 85mm | R B P C | w/o knob | ¥10,000 |
| PG-85D-CG | 85mm | R B P C | w/o knob | ¥10,000 |
| PG-92S-CG | 92mm | R B P C | w/o knob | ¥10,000 |
| PG-92D-CG | 92mm | R B P C | w/o knob | ¥10,000 |
| PG-IN92S-CG | 92mm | C | Inertia | ¥13,500 |
| PG-IN92D-CG | 92mm | C | Inertia | ¥13,500 |
* Plate Color: R = Red, B = Blue, P = Purple, C = Camo
* Suffix of Product Code: S/SH: for Shimano D: for Daiwa AD: for Abu Garcia&Daiwa
Suitability
Product Code
Suitable Models
PG-97S / PG-92S / PG-92PTS / PG-85S / PG-85PTS / PG92S-CG / PG85S-CG
SHIMANO: Antares (DC / DC7 / DC7LV / AR / 5 / Ver2), 07 Metanium (Mg / Mg7 / MgDC / MGDC7), Speed Master, 05 Metanium XT, 12 Antares, Scorpion Mg 1000, Calcutta Conquest 50-251 (including DC), 05 Calcutta 50-251, Quick Fire, Scorpion 1000, 00 Metanium Mg, Former Metanium XT, Aldebaran Mg / Mg7, 08 Scorpion 1000 / 1500XT
PG-97D / PG-92D / PG-92PTD / PG-85D / PG-85PTD / PG-92D-CG / PG85D-CG
DAIWA: T3AIR / T3, PX68 / PX68SPR, Steez 103H / 103HL / 100H / 100HL, Zillion PE Special / 100H / 100SH 100PPCC / HLC / ZDV, Alphas Finesse Custom / 150H / ITO Type F / R Edition, Liberto Pixy, Airy Red / Silver Mica, Presso, Aggrest PE Special, Millionaire CV-Z / ito / Bay SP / Bait Cast SP / Nanbu-Hyakushiki, ITO Mono block / Millionaire RYOGA, Black sheep / Snakehead, TD-Z R / R+ / ito / US Trail / B.B.S, J-Dream, RYOGA 1016 – 2020HL, Daiwa Z
Note: To use with J-Dream, RYOGA or Daiwa Z, please purchase DS Nut sold separately.
PG-COMP92-SH / PG-COMP85-SH / PG-COMP92-PTSH / PG-COMP85-PTSH
SHIMANO: 12 Aldebaran BFS XG, Antares (DC / DC7 / DC7LV / AR / 5 / VER2), 07 Metanium (MG / MG7 / MGDC / MGDC7), Speed Master, 05 Metanium XT, 12 Antares, Scorpion Mg 1000, Calcutta Conquest 50-251 (including DC), 05 Calcutta 50-251, Quick Fire, Scorpion 1000, 00 Metanium Mg, Former Metanium XT, Aldebaran Mg / Mg7, 08 Scorpion 1000 / 1500XT, 13 Metanium series
PG-COMP92-AD / PG-COMP85-AD / PG-COMP92-PTAD / PG-COMP85-PTAD
Abu Garcia: REVO (LTX / MGX / ALT / LT / LTZ / STX / SX / S / ELITE / CB / Skeet Reese / IB / Power Crank / ELITE II, SX1500C-2500C / 5000C-6000C Morrum SX Ultra Mag 1600-1601 / 3000-3601 / IVCB / UM / TORNO3006, OLD ABU 5000, 4007 LP / 2505 LP, 13 REVO Elite 7 / 8, 13 Power Crank 5 / 6


PFLUEGER: Patriarch, Patriarch XT


DAIWA: T3AIR / T3, PX68 / PX68SPR, Steez 103H / 103HL / 100H / 100HL, Zillion PE Special / 100H / 100SH 100PPCC / HLC / ZDV, Alphas Finesse Custom / 150H / ITO Type F / R Edition, Liberto Pixy, Airy Red / Silver Mica, Presso, Aggrest PE Special, Millionaire CV-Z / ito / Bay SP / Bait Cast SP / Nanbu-Hyakushiki, ITO Mono block / Millionaire RYOGA, Black sheep / Snakehead, TD-Z R / R+ / ito / US Trail / B.B.S, J-Dream, RYOGA 1016 – 2020HL, Daiwa Z
Package Contents
Product Code
Package Contents
PG-97S / PG-92S / PG-92PTS / PG-85S / PG-85PTS
Handle: 1
Handle nut: 1 for left, 1 for right
Tool: 1
Lock screw: 1
Spacer for regular handle (stainless): 1
Spacer for Antares v2, 5 (plastic): 1
Spacer for Conquest (aluminum): 1
Knob inner screw: 2
Shimano knob cap: 2
0.1 milimeter shim: 2

Knob bearing: 4

PG-97D / PG-92D / PG-92PTD / PG-85D / PG-85PTD
Handle: 1
Handle nut: 1 for left, 1 for right
Tool: 1
Lock screw: 1
Handle spacer for DA: 1
Washer for DA: 1 stainless, 1 black stainless
0.2 millimeter shim: 2

Knob bearing: 4

PG-COMP92-SH / PG-COMP85-SH / PG-COMP92-PTSH / PG-COMP85-PTSH
Handle: 1
Handle nut: 1 for left, 1 for right
Tool: 1
Lock screw: 1
Spacer for regular handle (stainless): 1
Spacer for Antares v2, 5 (plastic): 1
Spacer for Conquest (aluminum): 1
PG-COMP92-AD / PG-COMP85-AD / PG-COMP92-PTAD / PG-COMP85-PTAD
Handle: 1
Handle nut: 1 for left, 1 for right
Tool: 1
Lock screw: 1
Handle spacer for DA: 1
Washer for DA: 1 stainless, 1 black stainless
PG92S-CG / PG85S-CG
Handle: 1
Handle nut: 1 for left, 1 for right
Tool: 1
Lock screw: 1
Spacer for regular handle (stainless): 1
Spacer for Antares v2, 5 (plastic): 1
Spacer for Conquest (aluminum): 1
Knob inner screw: 2
0.1 milimeter shim: 2

Knob bearing: 4

PG92D-CG / PG85D-CG
Handle: 1
Handle nut: 1 for left, 1 for right
Tool: 1
Lock screw: 1
Handle spacer for DA: 1
Washer for DA: 1 stainless, 1 black stainless
0.2 millimeter shim: 2

Knob bearing: 4