SSRC Offset Handle
---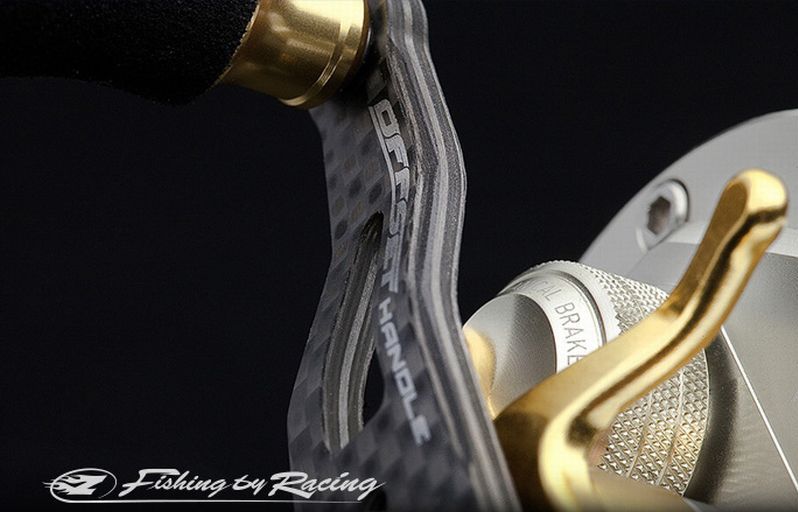 These years, several manufacturers released reels with offset handles. ZPI also released own offset handles which have more powerful strength than the BFC Offset Handles and are applicable for all round fishing. Its carbon material gives you more sensitivity. With its offset shape, you can shift the tackle balance more closer to the reel seat.
Available in Red, Blue, Purple, Gun Metal and Gold

Choose knobs depending on your fishing style
Caution: For knobless handles for Abu Garcia, choose the knobs with product code "RL"

Offset Handle + Light Finesse Knob
Shift the tackle balanse closer to the reel seat

Offset Handle + EVA Light Knob Slim Long
For pitching texas rig and rubber jig

Offset Handle + Inertia Knob Kit
For powerful cranking and big swim baits

86mm & 92mm Black Carbon

---
How to remove a genuine knob
Remove a genuine knob and a genuine star drag with a cross slot screwdriver and a 10mm hex wrench.
If you use a genuine knob, remove a knob cap with a accompanying tool, remove a knob screw with a cross slot screwdriver, then install the genuine knob to the offset handle and fix it with the screw. Make sure to place bearings and a shim in the same position as the genuine parts.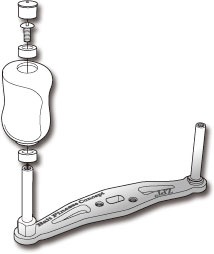 ---
How to install a offset handle
Insert a accompanying spacer and install the handle to the reel.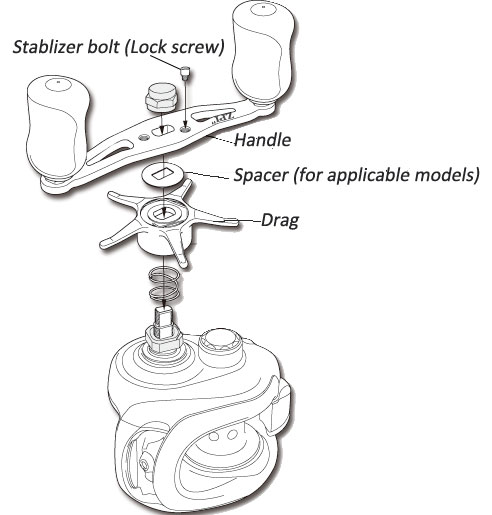 Caution: Nut for the left handle has slits on the side of it and it is a reverse screw.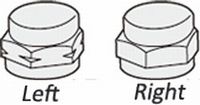 Spec
Product Code
Length
Weight
Color
Price (excl. Tax)
OS86S
86mm
8.0g
R B P GM G
¥11,000
OS92S
92mm
8.3g
OS86D
86mm
8.0g
OS92D
92mm
8.3g
OS86R
86mm
8.0g
OS92R
92mm
8.3g
Color: R = Red, B = Blue, P = Purple, GM = Gun Metal, G = Gold
Suitability
Product Code
Suitable Models
OS86S / OS92S
Shimano: Calcutta Conquest series, Calcutta series (50-200 class) except for '12 Calcutta, Metanium series except for '05 Metanium or before, Aldebaran series, Scorpion series, Chronarch CI4+, 15 Citica, 15 Curado, Exsence DC
OS86D / OS92D
Daiwa: T3 series, Steez series, Tatula series, SS series, Alphas series, PX68/SPR, Zillion series, Morethan PE SV
Note: To use with J-Dream, RYOGA or Daiwa Z, please purchase DS Nut sold separately.
OS86R / OS92R
Abu Garcia: 15 Revo Aurora, 14 Revo Elite IB5 / 7 / Rocket9, REVO (LTX, MGX, LT, ALT, LTZ,Deez6), Aurora, Former Power Crank, 13REVO Elite 7 / 8, 13 REVO Power Crank 5 / 6, DECIDER 7, XROSSFIELD, Morrum ZX
Package Contents
Product Code
Package Contents
OS86S / OS92S
- Handle without knob: 1
- Special color nut: 1 for left, 1 for right
- Spacer for regular handle (stainless): 1
- Spacer for Conquest (alminum): 1
- Knob inner screw: 1
- Stablizer bolt (Lock screw): 1
- Tool: 1
- Instrucion manual (in Japanese)
OS86D / OS92D / OS86R / OS92R
- Handle without knob: 1
- Special color nut: 1 for left, 1 for right
- Handle spacer for DA (stainless): 1
- Knob inner screw: 1
- Stablizer bolt (Lock screw): 1
- Tool: 1
- Instrucion manual (in Japanese)