Saltieva Jignist Light Handle
---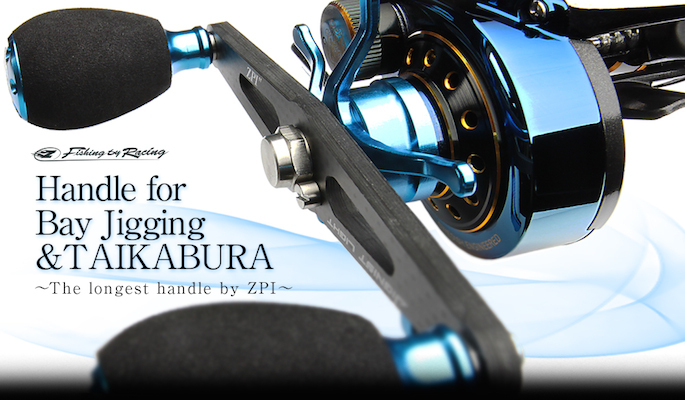 The handle for bay jigging with bass tackle
With the recent development of smaller reel, the dragging ability is increasing immensely. Naturally, there are more anglers enjoying bay jigging with bass tackle and we have developed this Jignistlight handle just for that purpose. Designing the handle length longer, you will have a better control against the catch. The high rigid carbon makes it lighter and enables easier control.
Available in Red, Blue, Purple, Silver, and Gold

High-sensitivity long power game carbon handle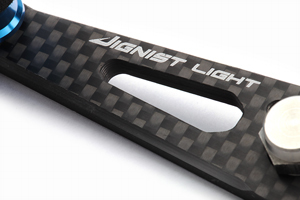 We have applied the ZPI's longest power game handle, 107 millimeters long. The long handle makes it easier to roll, pulling the fish powerfully. The high-rigidity carbon makes it lighter and increases the sensitivity. In the scene of TAIKABURA, the traditional method of catching red seabream, you can even feel the change of the water flow with this handle.
Barrel shape knob enables the easy grip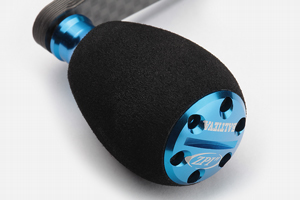 The Saltieva Jignistlight comes with the barrel shape knob, the best knob for power game style. This knob is easy to grip and enables you to roll powerfully together with the long carbon plate.
Corrosion? Not with the corrosion-proof bearings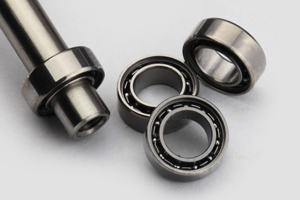 Inside of the knob, you will find the BOUSEI (corrosion-proof) knob bearing. We implemented this bearing to this handle in order to enable high sensitivity and stable retrieval. You can feel at ease about sea water as it is corrosion-proof. (*You will need regular maintenance, degreasing and lubrication.)
Spec
Product Code
Length
Weight
Carbon Color
Knob
Price (excl. Tax)
JGL07
107mm
40g
BC
Saltieva Barrel Shape Knob
¥15,000
JGL08
* Carbon Color: BC = Black Carbon
* Suffix of Product Code - SH: for Shimano, AD: for Abu Garcia / Daiwa
Suitability
Product Code
Suitable Models
JGL07
SHIMANO: Ocea Calcutta 200 series, 13 Metanium HG / XG, 07 Metanium Mg, Mg7, 08 Metanium Mg, DC, DC7, 09 Aldebaran Mg, Mg7, 12 Aldebaran BFS XG, Scorpion XT 1000 / 1001, Scorpion XT 1500 / 1501 / 1500-7 / 1501-7, Scorpion DC / DC7, Antales DC / DC7 / LV, 12 Antales, Antales AR, Calcutta Conquest 100 – 201, Calcutta Conquest 100DC – 201 DC
JGL08
Shimano: Ocea Calcutta 300 series
Abu Garcia: 13 REVO Elite 7/8, 13 REVO Power Crank 5/6, 13 REVO 3SX, Big Shooter Compact, REVO Elite, REVO Elite Power Crank, REVO Elite IB, REVO Elite II, REVO Aurora, REVO Akatsuki, REVO LTZ AE74-Racing, REVO LTX, REVO MGX, REVO LT, REVO ALT, REVO MJ, Morrum IVCB ZX 1600 / 3600, Morrum ZXMAG 1600 / 3600
DAIWA: Zillion HLC, Zillion series, T-3 series, Alphas R Edition

Note: To use with Ryoga Bay Jigging, BJC 1012PE-HW, DAIWA-Z RYOGA 1016-2020HL, Zillion J Dream series, please purchase DS Nut sold separately.
Package Contents
Product Code
Package Contents
JGL07
- Handle: 1
- Handle nut: 1 for left, 1 for right
- Lock screw: 1
- Spacer for regular handle: 1
- Spacer for Antares v2, 5 (plastic): 1
- Spacer for Conquest: 1
- 0.2 milimeter shim: 2
JGL08
- Handle: 1
- Handle nut: 1 for left, 1 for right
- Lock screw: 1
- Spacer for DA / Ocea Calcutta 300: 1
- Washer for DA: 1 stainless, 1 black stainless
- 0.2 milimeter shim: 2