EZ OFFSET
---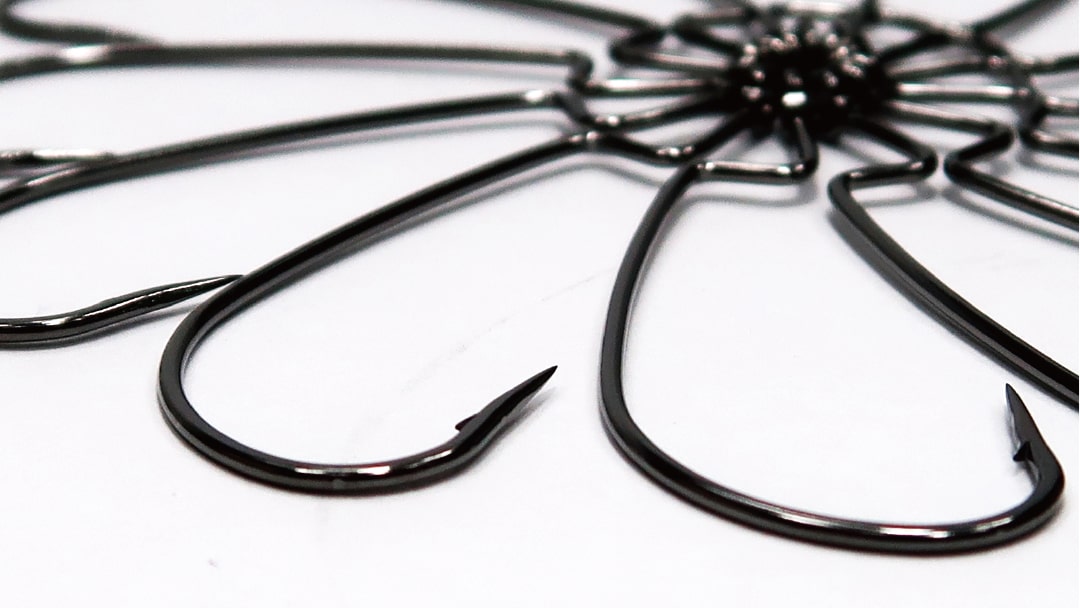 With the concept of "Simple and easy to understand",
ZPI creates a new standard.

Easy to choose and handle, new size notation: S/M/L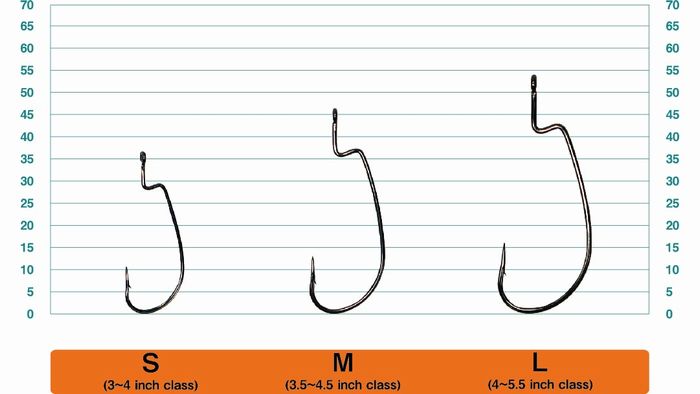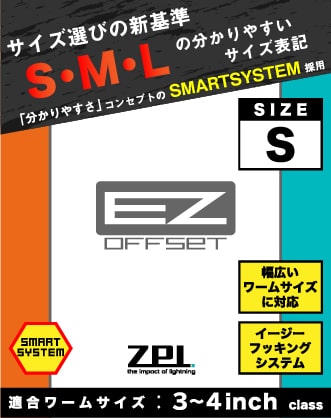 Compared with existing size notation such as "#1/0", simpler and easier to understand size range.

S is used for 3-4 inch worms, M is used for 3.5-4.5 inch worms, and L is used for 4-5.5 inch worms.

In recent years, offset hooks have been diversified into various types and size ranges (average 7-9 sizes), therefore it's difficult to find the best choice from many shapes and wire diameters for fishing situation. EZ OFFSET is limited to just three size ranges so that everyone can easily select and handle without difficult hook choice.

We conducted our own survey for revealing commonly used soft lure sizes in late years. Then we selected frequently used gape widths and wire diameters and optimized them as three sizes (S/M/L). This resulted in easy-to-choice hooks.
DESIGN CONCEPT
Introduce new standard "S/M/L" size range. Compared with existing size notation such as "#1/0", this is easy to choose and understand
Introduce easy-to-handle wire diameter for S/M/L size range by investigating suitable wire diameter in various fishing situations
Specially designed with wide gape for L size to support bulky worms
Small barb without compromising hooking ability
Slightly larger eye for accommodating rigs with a worm stopper or a split ring
By increasing the length of forward part of crank, keep high hold and support many worm sizes
FEATURES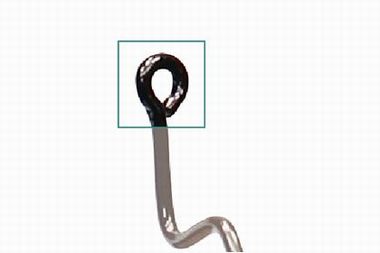 Larger size, easy to thread.
Prevent a worm from moving at line direction and hold it tightly.
Provide flexibility for a wide range of rigs.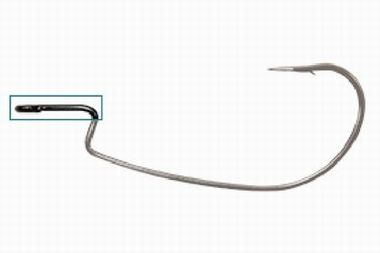 Increasing the length from the eye to the crank part, you can change a hook point to suit your taste whether shallow or deep position of a worm.
One size covers various types of worms.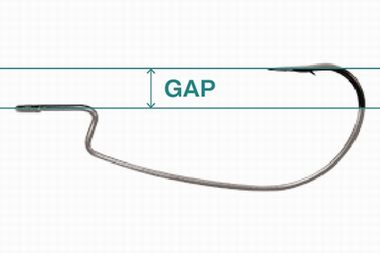 Not too narrow, not too wide, this fine setting enables you use bulky worms without compromising penetrating power or snagless ability.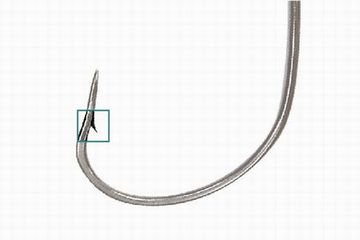 With a focus on penetrating power, this hook helps you catch a fish with high probability of penetrating even when your line cross over a log or a branch at the most remote end of cover or you need to hook up after long-distance casting in bank fishing
This hook shape enables narrowing size range to just three sizes
One size hook can accommodate a wide range of worms by introducing long hold area. It provides excellent hold, keeping worms and durability.

In consideration of frequently used worm size, rod spec, and line weight in any fields, we selected optimal wire diameter for each of three size ranges.
AIM TO EASY HOOKING
New EZ OFFSET hook with a focus on hooking ability
Three features bring excellent hooking performance
Fine gap setting
Small barb
Wire diameters by size
Design based on narrow gape with strong penetrating power.
Optimize shapes for recently often used worms.
Support for bulky worms and have enough penetrating power.
Small barb for quicker and deeper hooking.
Enable proper hooking even if lacking of line tension in the cover fishing.
Best suitable for bank fishing where your place is limited.
Optimal wire diameter by size (S/M/L).
Keep natural action of a worm and lead a deep bite without hesitation.
Have durability enough to fight a big fish.
SPEC
SIZE
WORM SIZE
(inch class)
QTY
PRICE
(excl. Tax)
SMALL
3 - 4
6
¥250
MEDIUM
3.5 - 4.5
5
LARGE
4 - 5.5
4
Design and spec of products may be changed without notice.