Alcance Rod
---

Best-in-class Cast Feeling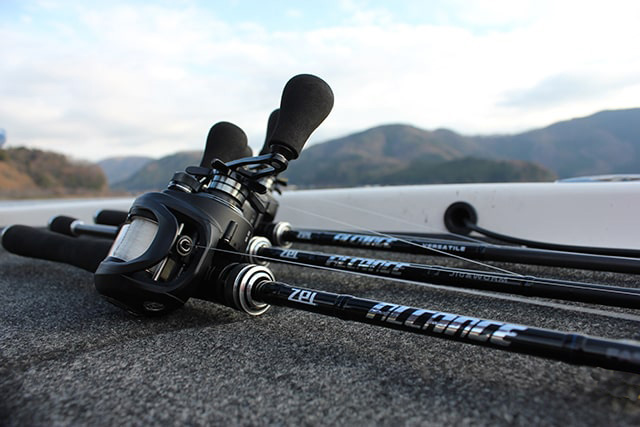 - Great cast feeling.

- Larger guide setting provides comfortable swinging and makes it easier to feel a whip of the rod.

- Three models:
1) VERSATILE model for a wide range of lures and situations
2) JIG & WORM model for texas rigs and jigs in the cover
3) FAST MOVING for wire baits or swim jigs.

- Separate grip for VERSATILE / JIG & WORM models.

- Straight grip for FAST MOVING models in view of best weight balance when reeling and casting.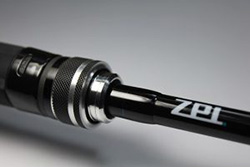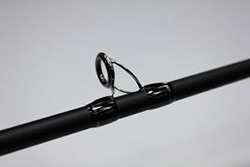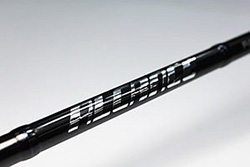 Fast Moving Model: Straight Grip
Jig & Worm Model: Separate Grip

---
MODELS
VERSATILE MODEL
ALC-V610M
Suitable for a wide range of fishing from common used light weight combinations such as 3.5g sinker + 3.5 inch worm, 3/8oz-class wire baits to high density no-sinker rigs.
A little bit longer versatile rods commonly used whether bank fishing or boat fishing. Larger butt guides provide good cast feeling.
ALC-V72MH
Suitable for casting high densitiy no-sinker rigs, smaller big baits, or 5 inch-class shad tail no sinker rigs.
Long power versatile rod for casting a wide range of lures whether in boat fishing or bank fishing. The tip-to-belly section is designed softer and butt-to-belly section is designed harder for casting 10g-class lures. There is a difference between solidness of tip and that of butt.
JIG & WORM MODEL
ALC-JW69MHST
Suitable for casting up to 7g texas rigs, flipping high density no-sinker rigs, or football jigs.

To provide lightly handling, its tip section is designed to minimize heavy holding feeling. Introducing a solid tip enables sensitive handling and guide settings are smaller among the Alcance series to avoid weight increase in its tip section.
ALC-JW70H
Intended to handle heavy wire and single hook lures, high power blanks are introduced for fishing in heavy cover.
Its guide setting is one-size larger than general jig and worm models for using heavy, 20 lb class lines.
FAST MOVING MODEL
ALC-FM66M
Features shorter rear grip for better handling in boat-fishing.
Shifting its center of gravity to the tip provides stable reeling. Adding hardness to butt and belly sections enhance hooking performance of thick-bodied single hooks used with wire baits while keeping smooth bending curve. Suitable for spinner baits or chatter baits.
ALC-FM71MH
Long power fast moving model that gives excellent weight balance and stable grip by introducing semi-long grip for long-casting. Suitable for moving heavy lures.
Its butt is strong enough to receive the weight of heavy lures while having a little bit weaker tip-to-belly section. Introduced carbon with middle elasticity for bending easier. Suitable for magnum crank baits or swim jigs.
---
SPEC
MODEL
LENGTH
TYPE
LURE WEIGHT
LINE
PRICE( JPY, Excluding Tax )
ALC-V610M
2.08m
Removable Grip Type
1/4 - 1oz
8 - 14lb
¥37,000
ALC-V72MH
2.18m
3/8 - 1½oz
12 - 20lb
¥38,500
ALC-JW69MHST
2.05m
1/4 - 1oz
8 - 16lb
¥37,000
ALC-JW70H
2.13m
3/8 - 2oz
14 - 25lb
¥38,500
ALC-FM66M
1.98m
1/4 - 3/4oz
8 - 14lb
¥37,000
ALC-FM71MH
2.16m
1/2 - 2oz
12 - 20lb
¥38,500
PHOTO GALLERY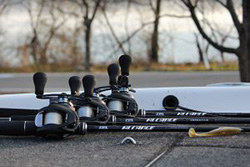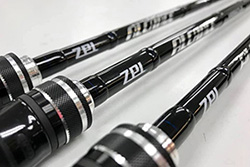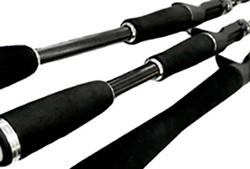 ROD SIGN
ex) ALC – JW 69 MH ST
ALC=Model Name
JW=Category (Jig & Worm Model)
69=Length(6'9")
MH=Power
ST=Solid Tip
CATEGORY
V = Versatile
 JW =Jig & Worm
FM = Fast Moving
Design and spec of products may be changed without notice.